Break Arcade Games Out (Open Source)
A downloadable game with source code for Windows
An open-source game, written entirely on a live stream!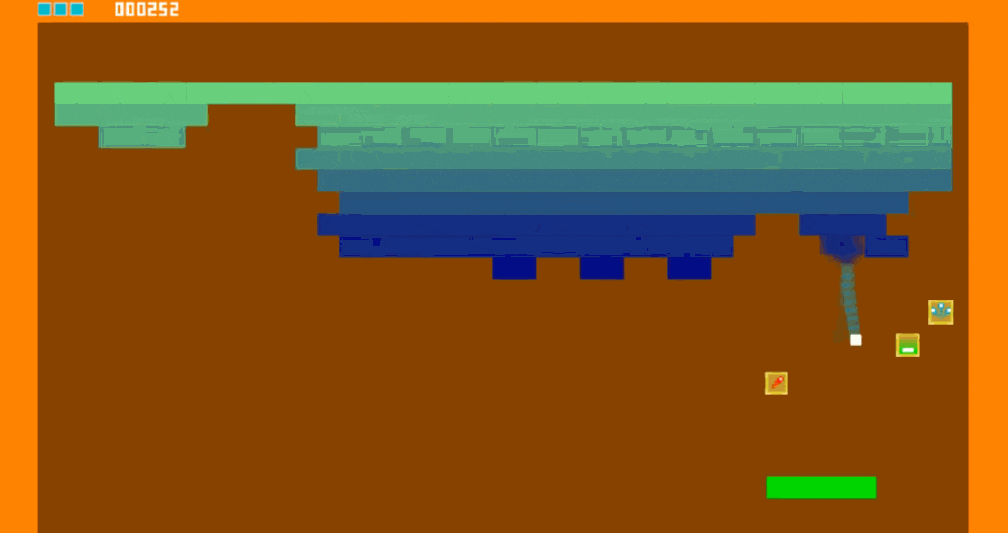 What if Breakout was the only arcade game people could make?
Well, then we would get Breakout Tetris!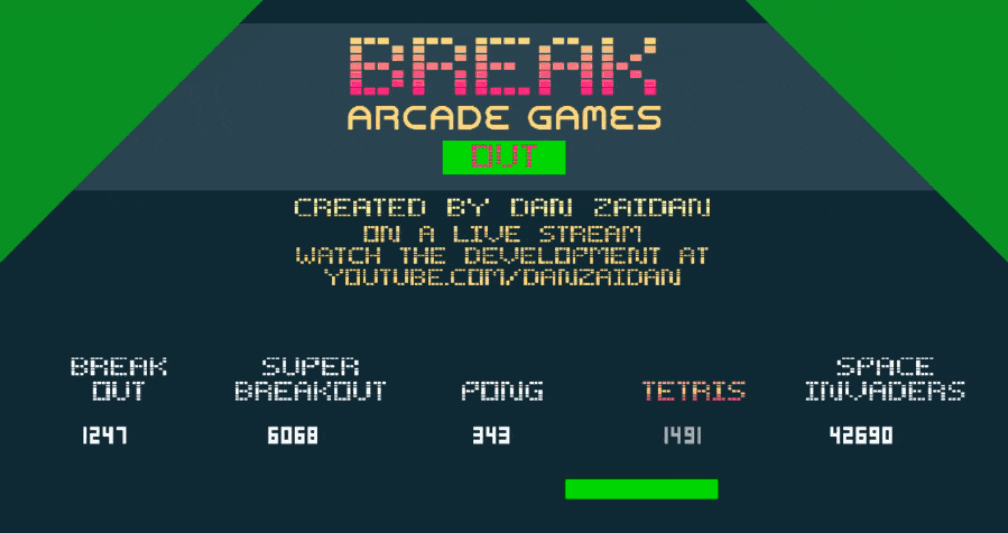 And Breakout Pong!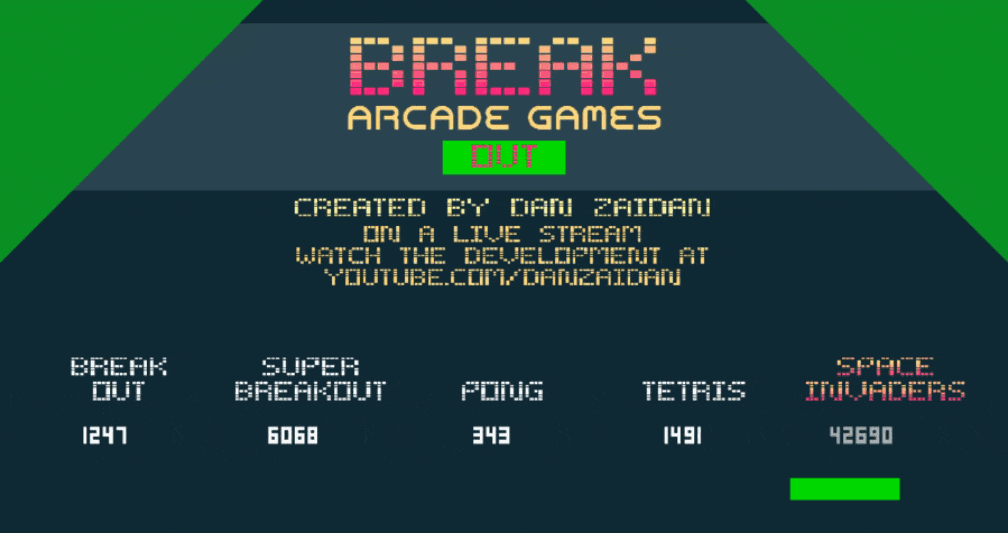 And Breakout Space Invaders!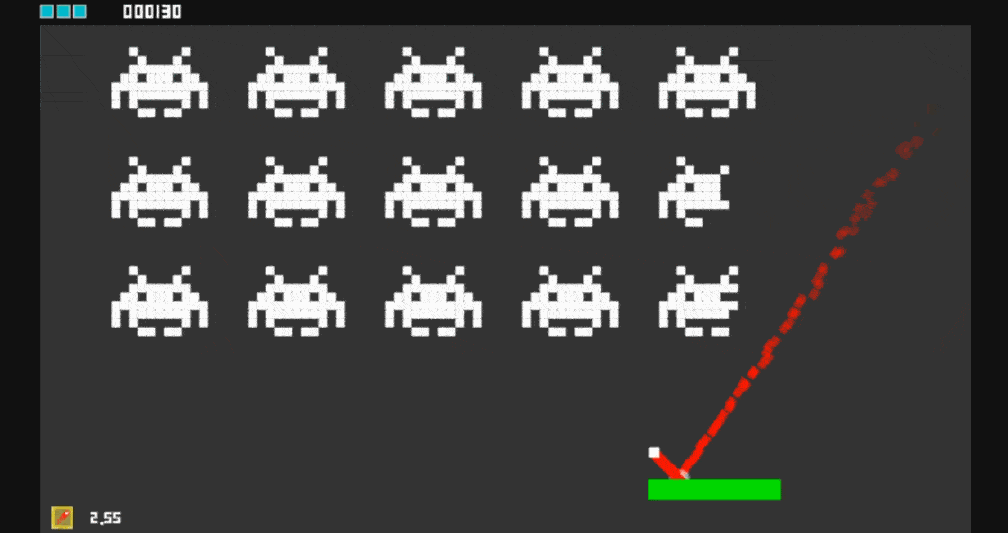 This game was created during live streams, so you can watch the whole development process, from scratch!
Check out the recordings on Youtube: https://www.youtube.com/user/DanZaidan
You can also download the Source code and play around with it!
The game and its engine were written using the C language.
I have also created development highlights for people who just want to see the best movements of the live streams!
I hope you like it!
__________________________
LICENSE:
This license is supposed to be as permissive as possible. So attribution is not required, but appreciated. A donation is also appreciated :) .
This software is dual-licensed to the public domain and under the following license: you are granted a perpetual, irrevocable license to copy, modify, publish, and distribute the software and its source code as you see fit.
The software is provided "as is", without warranty of any kind, express of implied, including but not limited to the warranties of merchantability, fitness for a particular purpose and noninfrigement. In no event shall the author be liable for any claim, damages of other liability, whether in an action of contract, tort of otherwise, arising from, out of or in connection with the software or the use or other dealing in the software.

Download
Click download now to get access to the following files:
Break Arcade Games Out - Ep 21.zip
4 MB
Break Arcade Games Out - Ep 21 - Source Code.zip
4 MB
Break Arcade Games Out - Ep 20.zip
19 MB
Break Arcade Games Out - Ep 20 - Source Code.zip
19 MB
Break Arcade Games Out - Ep 19.zip
19 MB
Break Arcade Games Out - Ep 19 - Source Code.zip
19 MB
Break Arcade Games Out - Ep 18.zip
19 MB
Break Arcade Games Out - Ep 18 - Source Code.zip
19 MB
Break Arcade Games Out - Ep 17.zip
19 MB
Break Arcade Games Out - Ep 17 - Source Code.zip
19 MB
Break Arcade Games Out - Ep 16.zip
19 MB
Break Arcade Games Out - Ep 16 - Source Code.zip
19 MB
Break Arcade Games Out - Ep 15.zip
19 MB
Break Arcade Games Out - Ep 15 - Source Code.zip
19 MB
Break Arcade Games Out - Ep 14.zip
19 MB
Break Arcade Games Out - Ep 14 - Source Code.zip
19 MB
Break Arcade Games Out - Ep 13.zip
20 MB
Break Arcade Games Out - Ep 13 - Source Code.zip
20 MB
Break Arcade Games Out - Ep 12.zip
1 MB
Break Arcade Games Out - Ep 12 - Source Code.zip
1 MB
Break Arcade Games Out - Ep 11.zip
1 MB
Break Arcade Games Out - Ep 11 - Source Code.zip
1 MB
Break Arcade Games Out - Ep 10.zip
111 kB
Break Arcade Games Out - Ep 10 - Source Code.zip
86 kB
Break Arcade Games Out - Ep 09.exe
115 kB
Break Arcade Games Out - Ep 09 - Source Code.zip
15 kB
Break Arcade Games Out - Ep 08.exe
106 kB
Break Arcade Games Out - Ep 08 - Source Code.zip
14 kB
Break Arcade Games Out - Ep 07.exe
103 kB
Break Arcade Games Out - Ep 07 - Source Code.zip
13 kB
Break Arcade Games Out - Ep 06.exe
100 kB
Break Arcade Games Out - Ep 06 - Source Code.zip
12 kB
Break Arcade Games Out - Ep 05.exe
96 kB
Break Arcade Games Out - Ep 05 - Source Code.zip
11 kB
Break Arcade Games Out - Ep 04.exe
93 kB
Break Arcade Games Out - Ep 04 - Source Code.zip
9 kB
Break Arcade Games Out - Ep 03.exe
93 kB
Break Arcade Games Out - Ep 03 - Source Code.zip
7 kB
Break Arcade Games Out - Ep 02.exe
89 kB
Break Arcade Games Out - Ep 02 - Source Code.zip
6 kB
Break Arcade Games Out - Ep 01.exe
87 kB
Break Arcade Games Out - Ep 01 - Source Code.zip
4 kB